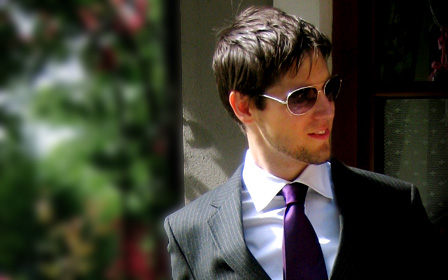 About


David M. Loder.

Life

I am happily living together with my wonderful wife Brigitte and our lovely son Timon who was born on September 24, 2007.

We got engaged on January 8, 2010 on Schloss Freiberg and married 7 months later (August 8, 2010) on the beautiful Schloss Obermayerhofen.

Work

I now work as a UI/UX designer at wealthpilot.

Currently, I am also working on a test management tool called testiny.io — it's a very promising product, we are in a limited beta-release, so sign up if you are even remotely interested in test management!

See my company profile on disillusiondesign.com.

Education

In 2006, I received a Master's degree in information design (from the University of Applied Sciences FH Joanneum) – in the process of applying methods of social sciences to phenomena of everyday situations I studied Sociology and Philosophy at the University of Vienna.

Becoming familiar with concepts and ideas of the social sciences for my future research activities is one crucial factor for the strong interest in Sociology and Psychology.

However, my personal understanding of complex social structures shall also have a strong technical basis: I am currently enrolled as a student of Computer Sciences at the Technical University of Graz.

To complement my educational activities I am currently preparing my research for a Ph.D. dgree in Philosophy at the University of Graz – specializing on Constructivism/second-order Cybernetics in the vein of Heinz von Foerster.

I work in Vienna and live in Gleisdorf.

Further skills

My list of interests in design includes Media design (Animation, Videos), interaction design, screen- and graphic design, branding, corporate design including logo development, web design and print products.

Additionally, I acquired advanced knowledge about Information modelling, data organization and XML (XSL), DTD and various approaches to the Semantic Web – many of these topics are related to my socio-cultural scientific approach to knowledge acquisition and knowledge generation.
About


More.

Interests

I enjoy nearly all kinds of creative activities, predominantly the fine arts, excellent music and classic design/aesthetics. Besides being a passionate cineaste, I show a great interest in Greek and Western philosophy, ludology, reading, and writing.

Music

I love to elaborate on the characteristics and historical developent of music, especially various sub-sub-genres of Death Metal, Progressive Metal and Black Metal (with respect to the historical development of these sub-genres).

Ludology

Computer games are without doubt an important heritage of our artistic and cultural existence, ludology provides us with the scientific tools and thinking models to analyze, to measure and interpret and understand computer games according to media theoretic, cultural criteria.

Books

In terms of books I am considerably conservative: I especially take pleasure in studying Classic books – I enjoy the poetical perfection of Johann Wolfgang von Goethe (in "Faust" or his several poems), I immerse in the accurately depicted scenes of Patrick Süskind's "Das Parfum". I shudder to the mysteries of Edgar A. Poe ("The Fall of the House of Usher", "The Gold Bug", "The Raven", "The Masque of the Red Death", "The Tell-Tale Heart"), admire the structural excellence of John Milton ("Paradise Lost") and whisper respectfully the 'Proverbs of hell' by William Blake ("... and many more such as works by H. P. Lovecraft, E.T.A. Hoffmann ("Der Goldne Topf"), Dante Alighieri (his opus magnum "La Comedia Divina"), Franz Kafka ("Amerika", "Brief an den Vater"), H.G. Wells ("War of the Worlds", "The Time Machine"), George Orwell ("1984", "Animal Farm"), Sophocles, Thomas Bernhard and other contemporary authors like Peter Handke ("Die Angst des Tormanns beim Elfmeter").
Be sure to take a look at Gustave Doré's books and marvel at his amazing etchings depicting the motives of Dante's Comedia Divina.

Movies

I am a passionate cineaste and I am undoubtedly a person frequently seen in regional theaters. However, in this area of entertainment I enjoy the sinister, the dark, the wicked and the bizarre – and the funny, of course. The movie itself may reference to works of art, convey extreme emotional power or simply tell a great story – I do not mind if it's fact or fiction, reality or fantasy, true or false, good or bad.

The list of beloved works includes the visually stunning movies of Sergio Leone ("The Good the Bad and the Ugly", "Once upon a Time in the West", "For a few Dollars more", "Once upon a time in America"), David Fincher ("Seven", "Fight club"), Akira Kurosawa ("Rashomon", "Yume" [also known as "Akira Kurosawa's Dreams"]), Orson Welles ("Citizen Kane"). I marvel at the beautiful and pioneering movies of Stanley Kubrick ("2001 – A Space Odyssey" [A true masterpiece of remarkable visual and sonic coherence], "The Shining" [Jack Nicholson is simply overwhelming in this movie!], "A Clockwork Orange", "Full Metal Jacket") and Alfred Hitchcock's fantastic aesthetics and prototypical, thrilling directing ("North by Northwest"). The bizarre and brilliant mind of Tim Burton becomes apparent in the pitoresque and expressive worlds of "Nightmare Before Christmas", "Big Fish" (with the amazing Ewan McGregor), "Corpse Bride" and "Charlie and the Chocolate Factory". I also enjoy the mysterious atmosphere of David Lynch ("Muhlholland Drive", "The Straight Story" and "Lost Highway"), the apocalyptic, peculiar motives, the tortured souls the fatalistic downward spiral towards an ultimately negative outcome. It's the tragic hero of the "film noir" who has my sympathy in his failures and his desperate attempts to save himself from damnation while he watches his world falling apart.

All these directors have an unparalleled visionary approach, mysterious at times, multilayered and refreshingly unconventional.

I am also fairly impressed by the works of Quentin Tarantino ("Pulp Fiction" and "Kill Bill"), by his interpretation of Sergio Leone's italo-western and his Asian and horror influences, as much as the Asian directors are again influenced by his style. And a couple of French artists (Claude Sautet, Jean-Luc Godard, François Ozon). Plus, some Austrian directors (Fritz Lang for "Metropolis", Virgil Widrich for "Copyshop", Michael Haneke for "Funny Games").